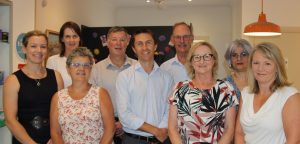 Ian Gutteridge
MScOptom LOSc FAAO FACO PGCertOcTher
Ian joined the practice in 1976, and became a partner a year later. He holds a teaching position as Associate Professor at the University of Melbourne, with lectures in eye disease. He is qualified to prescribe ocular therapeutic medication and has lectured in Ocular Therapeutics courses in Queensland and New Zealand. His interests include ocular diseases and inflammation, and teaching the next generation of Optometrists.
Ian lives in Sandringham with his wife Debbie. They have two children. He has a very keen interest in the Melbourne footy club, Fiji, and skiing overseas. Golf is his other passion, and he spends much of his spare time at Kingston Heath golf club, trying to keep his handicap near to his wife's!
Ian Douglas
BScOptom FACO PGCertOcTher
Ian joined the practice in 1987, after graduating from Melbourne University and working in London for twelve months. He became a partner in 1988. He is a senior lecturer at the University and is also registered to prescribe ocular therapeutic drugs. He is a member of the Aviation Medical Society. His special interests include contact lenses and ocular disease.
Ian lives in Hampton with wife, Rosemary, and they have two sons, Matthew and Andrew. His second home is his workshop, where he hammers, drills and welds to his heart's content. Don't ask him about classic cars unless you are in the mood for a long conversation!
Matthew Wells
BOptom PGCertOcTher
Matthew became a partner of the practice in 2005, after starting work here in 1999. He spends one day per week at Deakin University in his role as a clinical tutor to the final year optometry students. Matthew is qualified to prescribe ocular therapeutic medication and has completed an advanced course in children's vision. He has a keen interest in paediatric optometry and contact lenses.
Matthew lives in Hampton East with his wife, Ros, and two cheeky children, Anna and Xavier. Matthew has traveled to a number of interesting places around the world, with Zimbabwe, South America and Cyprus among them. On the weekend he can often be found going for a run, and he loves watching his beloved Carlton footy team.
Katrina Koenig
BOptom PGDipAdvClinOptom
Katrina became a partner in the practice in 2020, having started working here in 2013. Her history with the practice predates this however, as Ian Gutteridge prescribed her first pair of glasses at the age of 10 years old!
Katrina graduated from the University of Melbourne with a Bachelor of Optometry, and went on to complete a Post Graduate Diploma in Advanced Clinical Optometry whilst working at the Australian College of Optometry. She is qualified to prescribe ophthalmic medications. She has special interests in paediatrics and ocular disease.
Katrina has worked to deliver optometry services to remote and disadvantaged communities throughout Australia and has also traveled to Tanzania and Vanuatu as part of eyecare programs.
Katrina lives in Brighton East with her husband, Adrian, and their two sons, Sam and Oliver. In her spare time she takes great delight in flying through the air on the flying trapeze.
Marianthi
Marianthi has been working in the optical industry for over 25 years. She is an expert at helping you choose the perfect pair of glasses!
She helps keep our frame range colourful and current, and is always on the lookout for new styles. Marianthi loves overseas travel and is a bit of a film buff.
Dani
After over 20 years working in the optical industry, Dani has a wealth of experience regarding spectacle frames and lenses.
She particularly loves helping kids with their glasses selection, and is great at making sure the frames are comfortable, durable and fun!
Dani is heavily involved in the local school community.